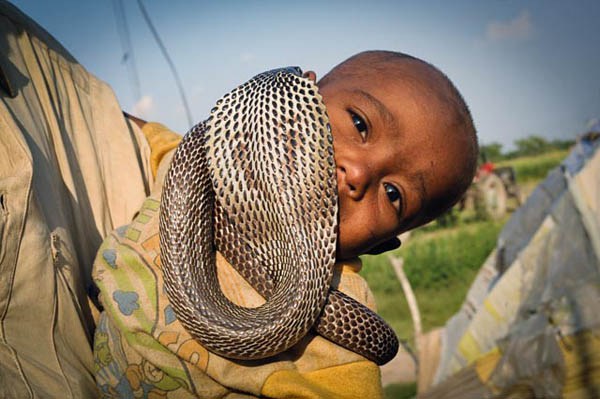 My daughter, he proudly boasted "She is the queen of all tribes living here. One day she will be the best snake catcher of all Pakistan".
Shazia was barely 4 − 5 years the youngest family members of the clan who had their tents parked outside Lahore in an abandoned plot.
Snake charming is an art and a profession. It originated in India where it was more or less a religious requirement. Before Hinduism, snake worship was one of the ancient religions. Snake worship had special temples and gods and deities. Hindus practiced the arts of charming which included treating snake bite victims and herbal treatments for various ailments. Charming was a Hindu discipline but later other castes and groups in Sindh, Bengal and Punjab also acquired this skill.
The professional art of snake charming is dying and charmers are becoming a rare breed. In Pakistan it is dying because it does not pay. Forty years ago charmers walked the streets and were invited into homes and children and adults enjoyed the show. On Eid, Saperas (snake charmers) dressed in long kurtas, colored turbans, necklaces made of beads and shells, would show up and perform with their beens and snakes.